Our Atlanta Plastic Surgery Center
We're dedicated to exceptional care & natural-looking results
Take a virtual tour of our facility!
---
The Swan Center
Monday – Friday 8:00 AM – 5:00 PM
4165 Old Milton Pkwy, Suite 200
Alpharetta, GA 30005
(800) 816-1057
---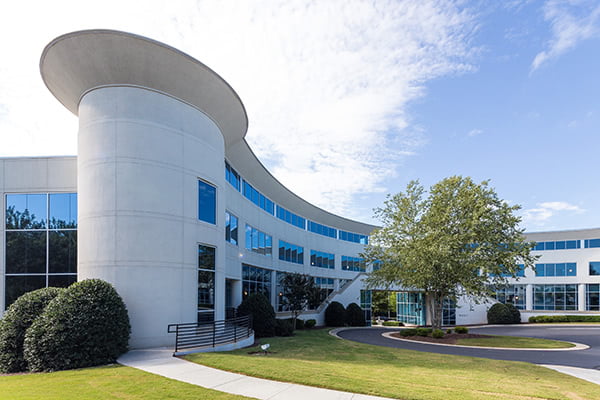 The Swan Center for Plastic Surgery has been helping Atlanta cosmetic surgery patients look beautiful and feel amazing since 1993—and we remain honored for the trust our patients have placed in us. The board certified plastic surgeons and staff at The Swan Center are committed to helping patients have a positive experience, from the very first consult all the way to the final follow-up.
Our practice is focused solely on cosmetic medicine, which allows us to concentrate our energy on providing beautiful aesthetic results and top-notch care. This dedication to quality has resulted in thousands of happy patients, and we are incredibly proud of our reputation for stellar service and phenomenal patient care.
Conveniently located in Alpharetta
The Swan Center for Plastic Surgery is private and easy to access as it is situated conveniently in Alpharetta. Nestled near the foothills of the North Georgia Mountains and located only 10 miles north of Atlanta and the perimeter, Alpharetta offers great restaurants, brand new hotels, world class shopping and championship golf courses. Alpharetta has over 300 cultural, historic, sports and adventure expeditions close by. The Fulton County Public School System was rated "One of the top 100 school districts in places you can afford" by Money Magazine. It is because of this strong and growing community that the The Swan Center for Plastic Surgery chose Alpharetta and the Swan Building to call home.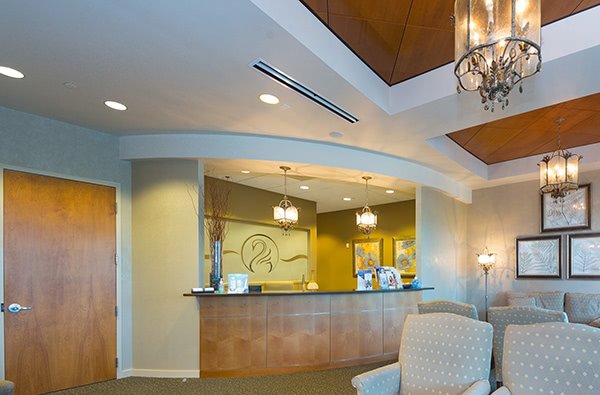 We are open Monday through Friday. Our answering service can always contact the doctors in the event of an emergency. Early and late office hours are available by appointment. Please contact us to schedule your complimentary private consultation. You can e-mail us or call us at (770) 667-0904 or (800) 816-1057.
Our commitment to patient safety, privacy, & comfort
We have worked hard to cultivate a positive and supportive atmosphere to help our patients feel confident moving forward with their aesthetic goals. As soon as you walk in through the doors, you will be greeted by one of our warm front-desk staff and invited to get comfortable in our welcoming reception area. Our friendly patient care team is readily available to provide support and answer any questions that might arise.
Our plastic surgeons are certified by the American Board of Plastic Surgery, the only board approved by the American Board of Medical Specialties (ABMS) to certify plastic surgeons.
Our on-site surgical suites
The Swan Center for Plastic Surgery has on-premises accredited surgical suites for our patients' privacy, safety and convenience. Read on to learn about the JCAHO accreditation of our operating rooms.
No detail has been overlooked when it comes to the quality of systems in place to assure patient safety before, during and after surgery. Our operating and recovery rooms are equipped to hospital standards, Registered Nurses will meet with you during every visit, and our friendly, experienced staff is trained to anticipate your questions and concerns. Continuing education of all of our staff, including ACLS Certification, is a commitment we make to ensure that our patients receive the most advanced techniques in cosmetic surgery.
For your safety and peace of mind, the surgical suites are accredited by the Joint Commission on Accreditation of Healthcare Organizations (JCAHO), an independent, not-for-profit organization that is the nation's predominant standards-setting and accrediting body in health care. This organization maintains strict standards for proper medical equipment, emergency readiness, and cleanliness of surgical facilities. JCAHO is recognized nationwide as a symbol of quality that reflects an organization's commitment to meeting specialized performance standards. This is an important safety consideration for those choosing to have cosmetic surgery.
The Swan Building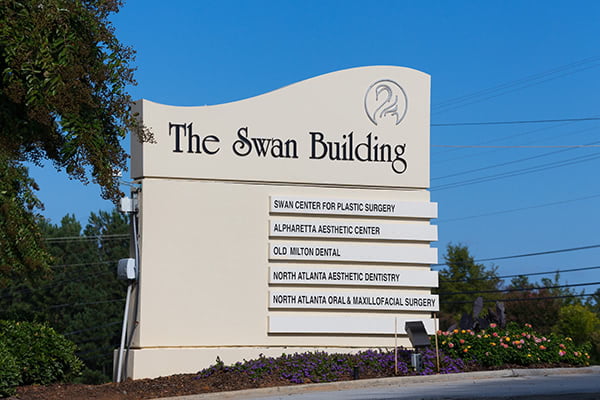 The Swan Building is the only place in the Atlanta area that is dedicated to providing a full range of cosmetic services in one location. To complete your new look, consider taking advantage of the full range of services available within the Swan Building: